HOW TO BUILD A 7-FIGURE ONLINE BUSINESS FROM THE SCRATCH
Did you enjoy this training? Share it with your friends by clicking the share buttons below!
Now That You Understand How Online Business Works, Will You Be Interested If I Teach You Some Online Businesses That You Can Profit From Immediately?
Here is The Millionaire House Wife Academy Bundle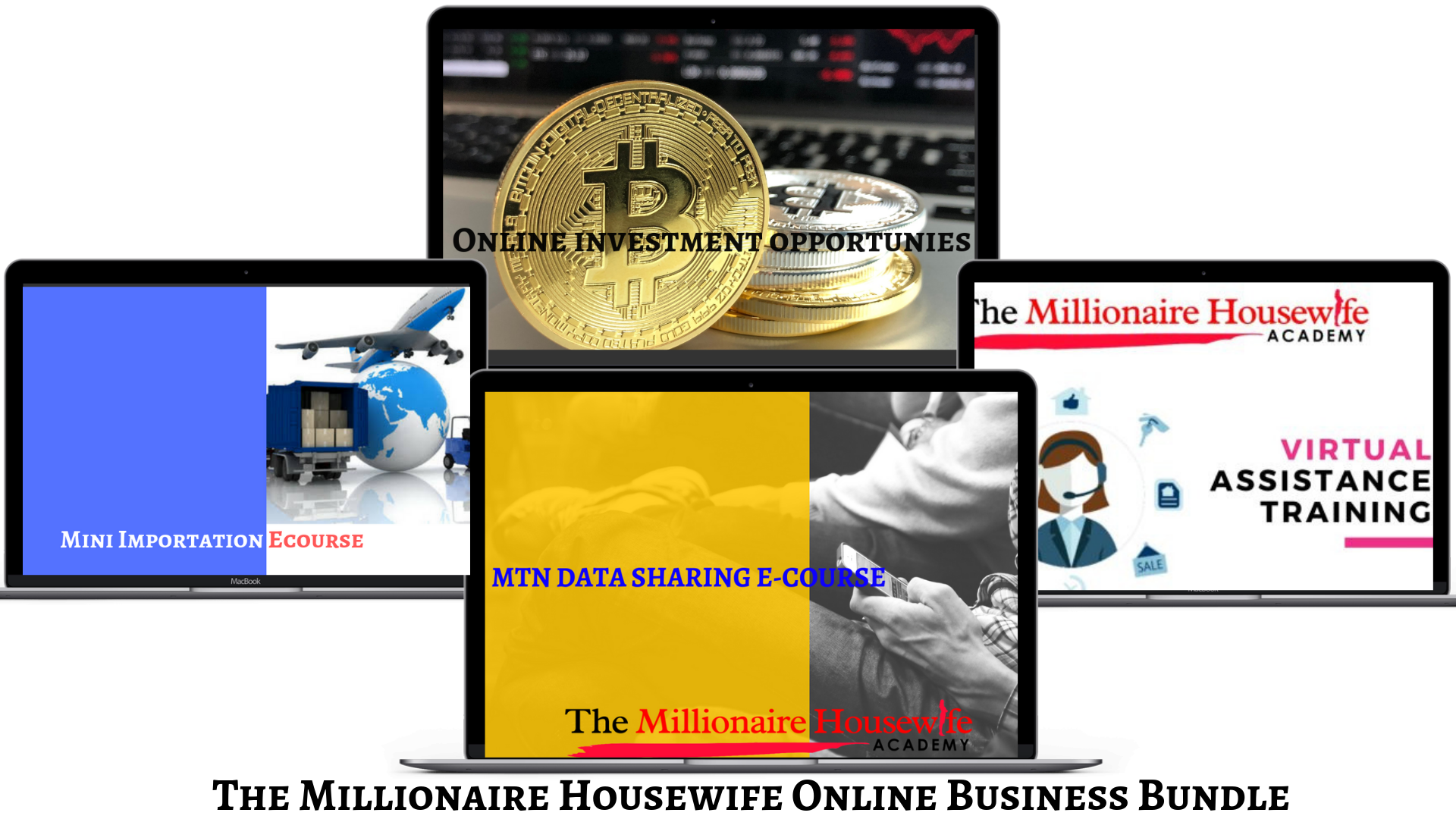 MTN DATA SHARE BUSINESS ECOURSE N20,000
VIRTUAL ASSISTANT TRAINING N20,000
MINI IMPORTATION N30,000
ONLINE INVESTMENT OPPORTUNITIES N20,000
TOTAL  N90,000
If you make payment before exiting this page, you will will enjoy a whooping 50% discount on the bundle. Which means you will be paying N45,000 instead of N90,000 for the bundle.
Here Are The Bonuses You Get When You Enroll For The Millionaire Housewife Bundle
You can pay for individual courses if you cannot afford the bundle right now but that you wont get any of the bonuses.
All payments  are to be made to
Temi Ashabi GLobal Ltd
0096656841
Access (Diamond) Bank
Then send a telegram message with the screenshot of your evidence of payment to 08039406091


"I have finished watching all the courses this morning. I learnt so much ma. I never knew these things can be monetized. I have being having this burning passion for businesses in my city. The training is an eye opener."



- Gold Okwo


"Thank you Electric Temi. Indeed you are electric, I couldn't sleep, had to open my ears and eyes to hear good and hear well from you. I have watched 10 videos and uhmmn its loaded. I have to debunk my Facebook profiles, create my Facebook ads on my page, and thank God I have been able to identify who my customers are.."



- Helen Tunde-Isaiah


"Thanks a lot for this wonderful class.  have been searching for a business to go into online and God used you to bring this my way. Guess this is the set time to launch out. God bless you richly"



- Esther Friday

DISCLAIMER!!!

Please understand my results are not typical. I'm not implying you'll duplicate them. Please do not enroll if you are not ready to grind and work hard and commit to this business for the next 6 months